Carlos Lima Jr
Born in Cuba, I immigrated with my family to the United States in 1970 when I was nine years old. Growing up in Miami, I studied broadcasting and worked for major TV networks for almost 40 years.
I have been married to the other Carlos' sister Nellie since 1982, and we have two grown children, Anthony and Nicole, along with two granddaughters, Samantha and Elizabeth. Nellie and I split our time between Miami and Key Largo.
I have been semi-retired from broadcasting for the last two years, and have been enjoying that time being out on the waters of South Florida, something I have done since an early age. As an avid fisherman, I have fished in all places where you can drop a line – from largemouth bass in freshwater, to flats fishing for bonefish and tarpon, to the reefs for snapper, grouper, and sharks, all the way out to the blue waters of the Gulfstream for tuna, mahi, and wahoo. In 2019, I realized a lifelong dream when Nellie and I went salmon fishing in Alaska.
I have authored a book recounting the adventures we had while on vacation in Europe in 2007 titled 'Traveling Lightly', and have also received a Communicator Award and a Telly Award for hosting the fishing show "Fishing South Florida". Currently, I am a play-by-player announcer for Miami Dolphins preseason games in Spanish on CBS 4 TV out of Miami.
I also hold a US Coast Guard Captain's license which permits me to run fishing charters. I thoroughly enjoy this activity – in particular, the joy I see when our customers experience the beautiful waters of the fabulous Florida Keys.
During my time off, you can find me out on the boat with family and friends – fishing (of course!), scuba diving, snorkeling, or just cruising around. I also enjoy spending time with family and friends, travelling, and watching my favorite sports teams in person or on TV.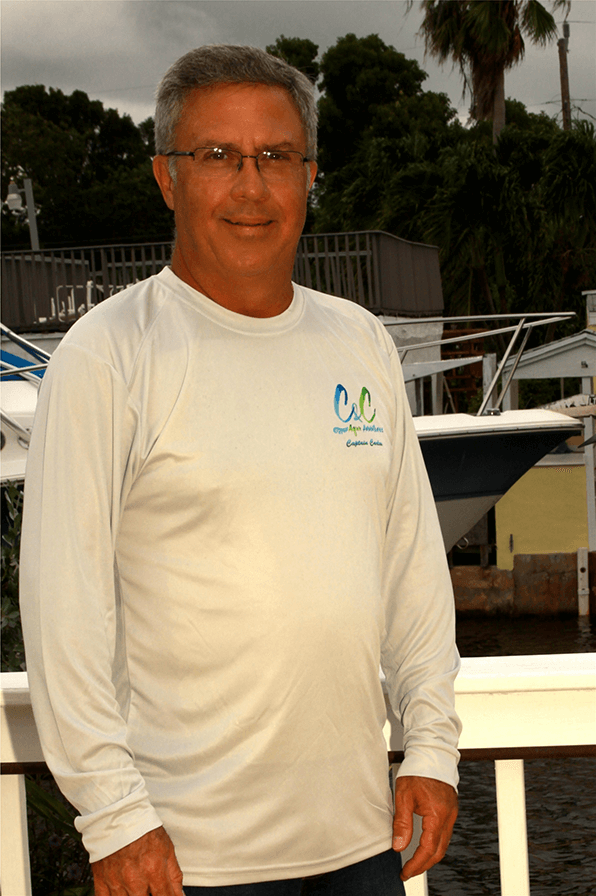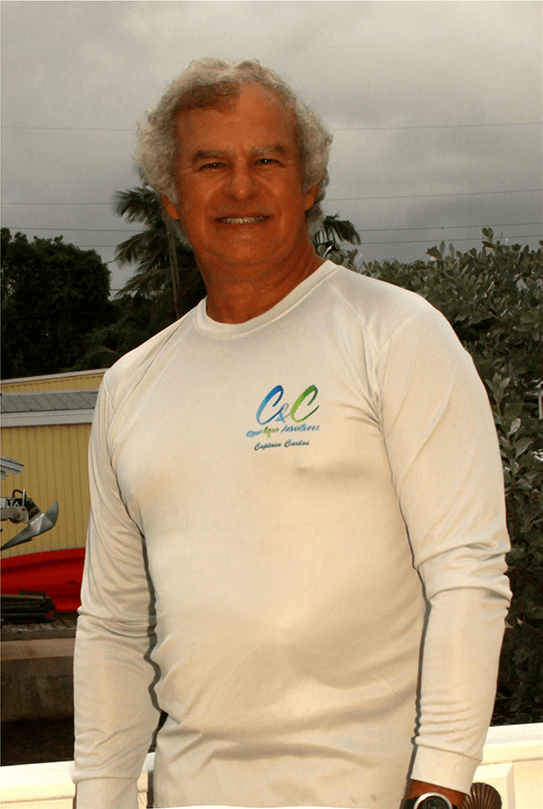 Carlos Paez Jr
My parents arrived from Cuba in 1961 and I was born and raised in Miami before spending 22 years in the US Air Force in various intelligence related jobs, I promise I am not a spy! Later, serving as a civilian in the Department of Defense for an additional 18 years, this Carlos has finally retired to the Florida Keys.
I am married to Martha and have two grown children and two grandkids.
Though retired, I've decided that taking others fishing, diving, snorkeling and sightseeing is not really work. Together with Carlos Lima at C & C, we want you to enjoy your time on the water.
Having spent my entire life on the water, nothing brings me more joy than the sun and the sea – the love of hot and humid weather is a reminder of how weird I am. For me, the happiest days are teaching others my knowledge of the sea and watching them experience the thrill of reeling in their catch, diving the reefs and wrecks, or just seeing the abundant sea life while snorkeling.
My personal nirvana can be found in the tranquility of being underwater, and watching the sea life around me. As a natural extension of that, I love showing others how fun and relaxing the experience can be.
This is not a job, it is a dream come true. Come join us and feel our passion for the sea in Key Largo with C & C Aqua Adventures!